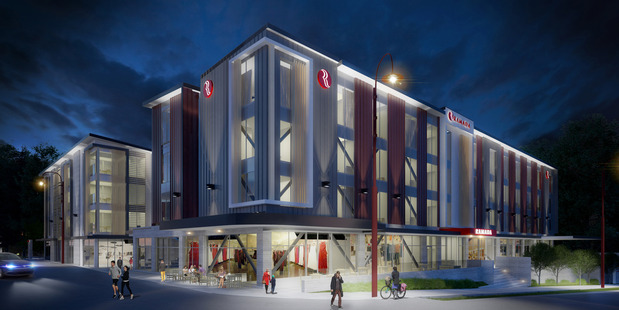 Eleven retail units in the Ramada Albany, Auckland's new major hotel development on the North Shore, are for sale or lease exclusively by private treaty through JLL.
"This will be a boutique four star hotel development that will be managed by the international Ramada chain," says Chris Beasleigh, national director of JLL's retail team who, with colleague Ranesh Parmar, associate director of retail, is seeking a diverse range of operators to occupy the retail space.
Construction on the Ramada development on Lot C4, Cornerstone Drive, is due to begin next month and scheduled for completion by the end of 2016.
The accommodation component of the hotel comprises 66 furnished units, 14 of which have already sold; and 18 residential apartments, all of which have been sold.
The retail units on offer range in size from 86 sq m to 370 sq m.
The Ramada Albany development will also have 85 underground car parks and 67 ground level parks along with an extension to the Park and Ride bus service and the Oteha Valley off ramp to State Highway One.
Beasleigh says prospective tenants have the option of combining several smaller units. "A larger northwest unit is ideal for a restaurant or bar operator as the space includes large outdoor deck areas. A northeast unit would suit a cafe operator."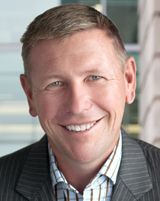 Parmar says the retail units could be leased to convenience service offerings like food and beverage operators or service providers like gym operators.
"The Ramada Albany will be built in a thriving precinct that has seen huge residential growth, including the addition of 800 apartments in an adjacent block," Parmar says. "We therefore expect demand to be high for the 11 retail units that will cater to surrounding residents as well as hotel clients."
Beasleigh says there is already strong demand in the Albany area for retail and commercial outlets. "The Ramada development will complement the range of retailers already established in the surrounding areas like Westfield, Mega Mitre10 and local supermarkets," he says.
"Albany is predicted to be one of the fastest growing areas within Auckland over the next 30 years.
"Statistics New Zealand has projected an increase of 18,300 residents from 2013 to 2043. There has also been a significant increase in the Albany's employee count which is currently at 6630 - a 78 per cent increase since the 2005.
"Albany is situated just 15 km from Auckland's CBD and has easy access to motorway connections and main arterial routes which has added to its appeal," Beasleigh says.